Upon arriving at the church, we discovered a large portion of the Adelaide skate fraternity had showed in all their ragged glory. It was bleedin' hot.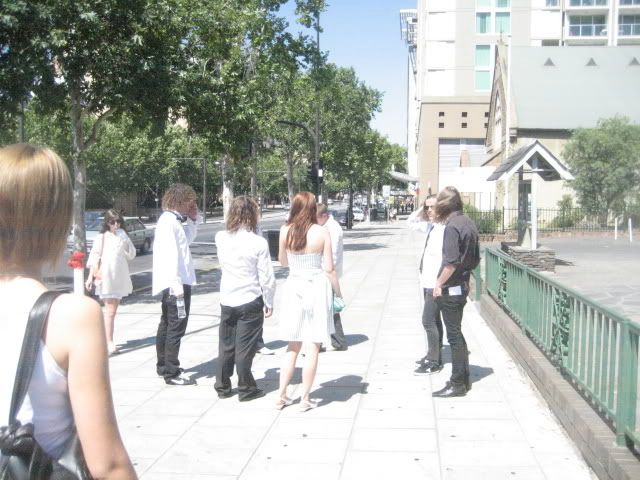 The ceremony was in the oldest church in the city of churches, which also happens to be over the road from the skatepark.
Off-setting the traditional feel of the surroundings, the Virgin Suicides song played as the bridal party entered, and B&S played during the signing of the register. Class!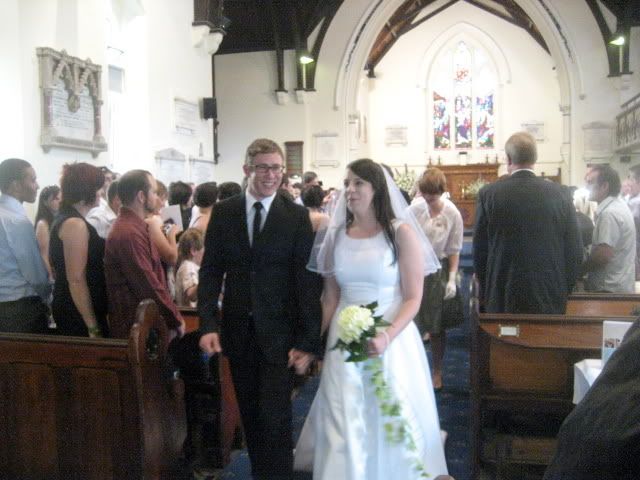 Five minutes away from the reception where we were to drink thousands of free beers, the lads stopped off for a traveller.
We were seated on the photographers table, with Andrew and Matea, along with other notables.
The speeches were entertaining and rad. The bridesmaids got us to sing all you need is love.
I'm not sure when we relocated to the dancefloor exactly, but that was when the fun really started.
Liam was loving it. He said it was like playing a big football game to an adoring crowd. Or how he imagined it would be like, since he never played football.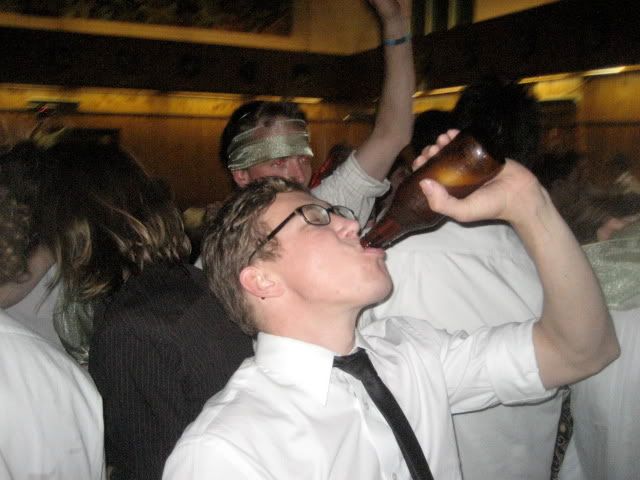 Raoul located these melted glasses and we took it upon ourselves to get photos with everyone wearing them. We'd had a few by this point.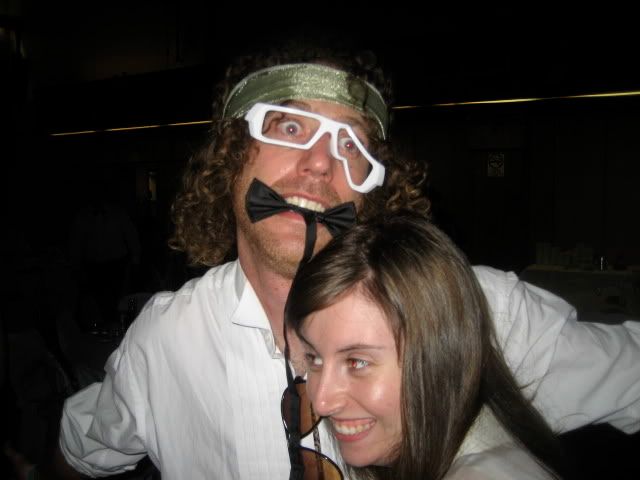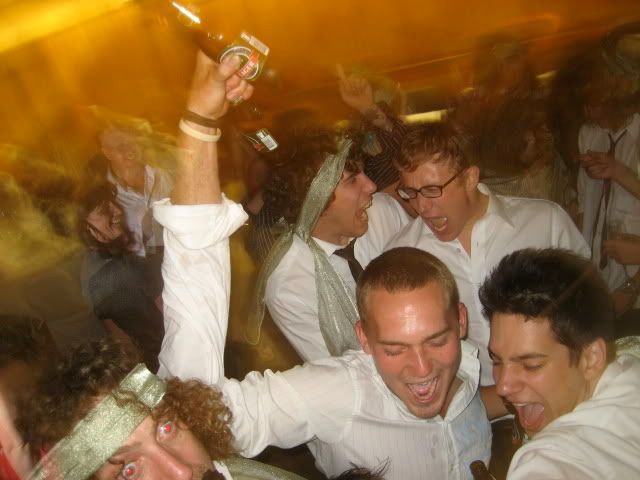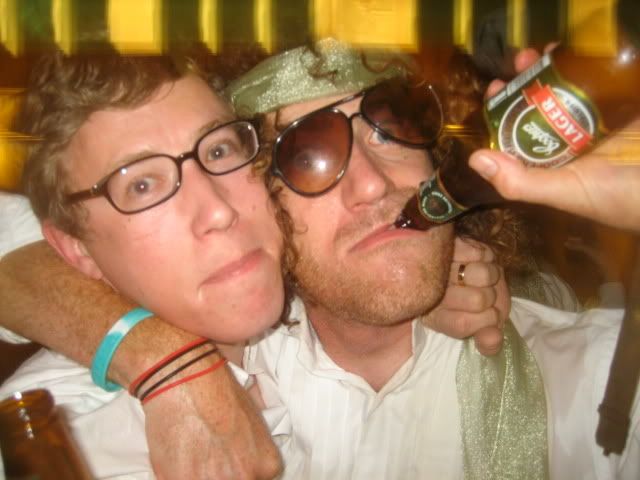 Maybe you only get red eye if you can skate rails?
The oldies had dispersed and we had run of the place. The obvious location was the stage.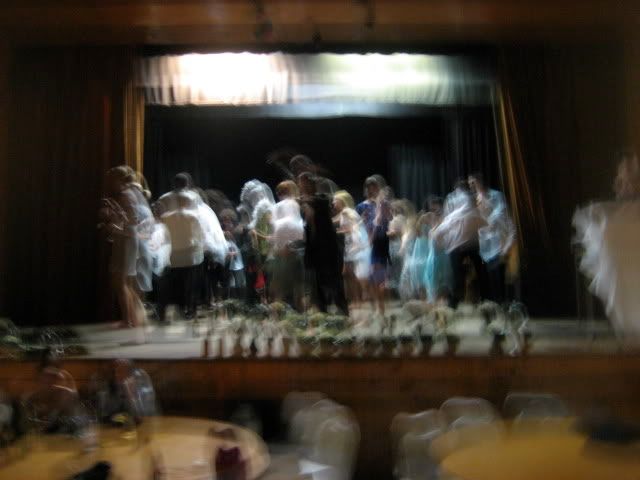 You can tell I'm drunk when my reaction to anything is to strike a pose in front of it.
There may have been a Smiths track playing at this point
The happy couple
I told Sarah that Ed would be impressed if she got a photo with George. George isn't anywhere near as scary as he looks.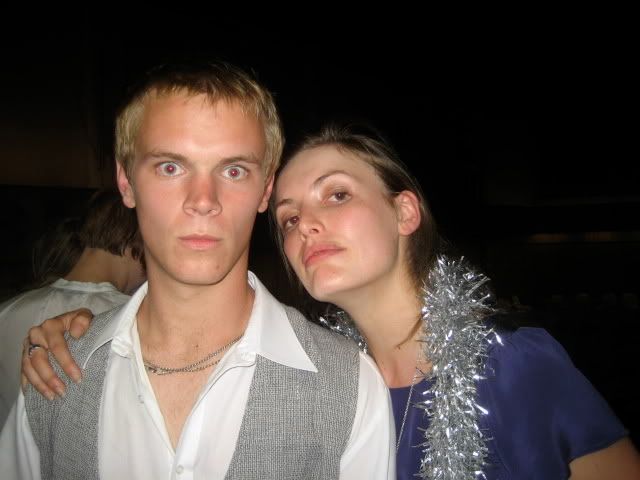 Liam's dad is pretty awesome, and so is Tom.
The DJ was Ian, the guy who played at all the indie nights at Shots and Fowlers for years (does he still play there?). Tara and Liam met at one of those nights. Ah, Shots.
Sarah wanted me to point out that she is wearing a christmas decoration in this shot
Interesting side-note: I am extremely drunk in this photograph.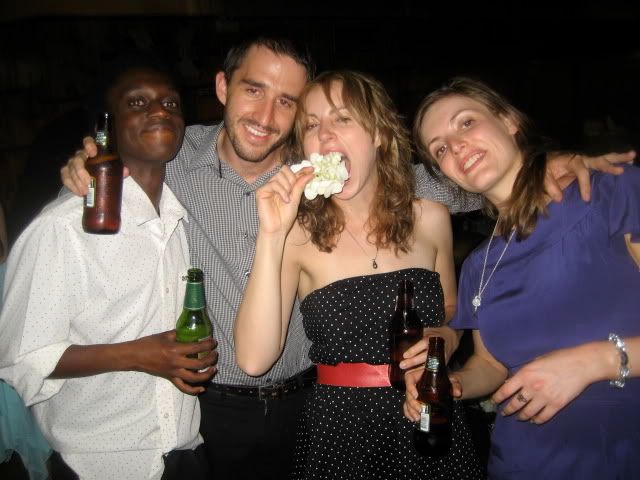 The building was the beautiful old Estonian club, which had these Kab pieces up everywhere for some reason.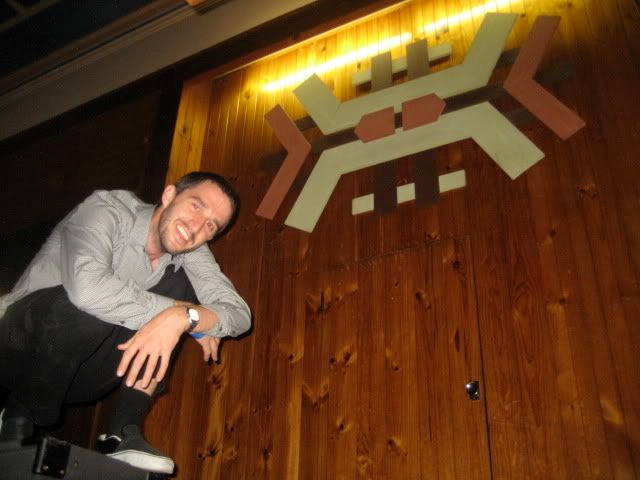 They finally kicked us out, so we made a traditional walking out type thing for the Taras and Liams amongst us.
After a whole day as a princess, Tara very quickly returned to keeping it real.
We milled about for a bit, then headed off in the general direction of town.
Andrew was trying his darndest to leave Sarah with a good impression of Adelaide
But he needn't have tried. Adelaide, you had me at hello.