As part of my half an hour of fame (I think I've been afforded an extra 15 minutes), I got to fly to Sydney for a night. I was immediately struck by how pretty the place is, and set about taking photos of nearly every street I walked down. This happens to be right near Trent's place, where I was kindly put up for the night.
We wasted no time and headed to the Shakespeare Hotel (Trent was shocked I hadn't been there before) for a business meeting over a $12.50 steak lunch. I went a little hard on the English mustard.
After lunch, we headed over the road to 'Shaky bowl' for a skate. It's a tricky one to adjust to, but hilarious and quite enjoyable indeed. Trent is good on the board.
Speaking of good on the board, Joseph showed up! It's been a while between drinks - Joe is now a dad and runs his own art game. It was great to see him. After about half an hour, it started pissing down rain. It was not to stop for the rest of the time I was in Sydney.
Another street, on my wanderings. Maybe it's because I'm reading the new Murakami book, but I felt like I was in Japan. The funny thing is - I've never been to Japan.
I entertained idle thoughts of relocating and living in this hippie-ish abode.
The main objective of my trip was to attend an exhibition of photographs from the
Sony campaign
. I got there early and checked out the scene. it was a tad surreal!
I met Mark Drew, who was also a part of the whole thing. We had our photos taken and I felt uncomfortable.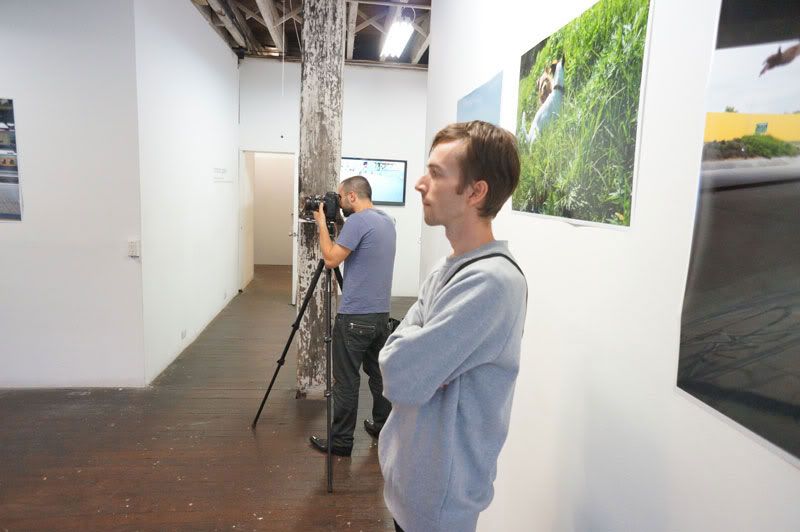 My big three prints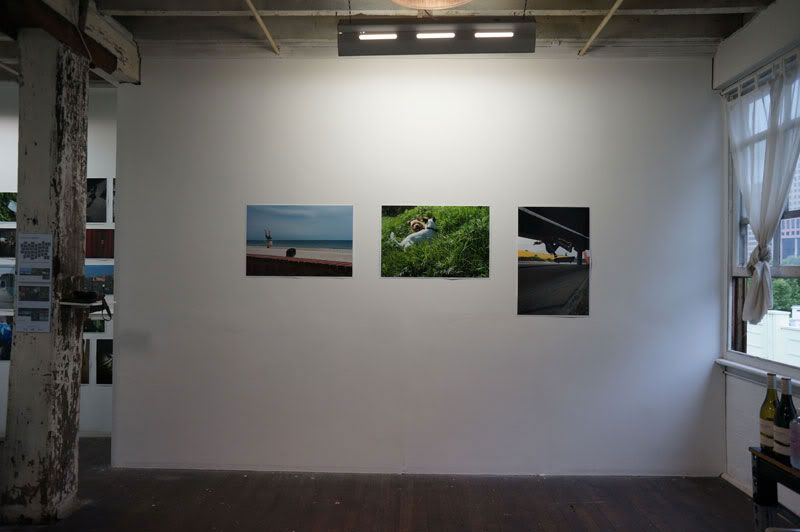 Things heated up later. These guys came along, as did Doug and Kashi. Good laughs. I was also involved in heated talks with Sony and marketing people, who had been staring at my face for the past month or so and wanted to meet me. They liked me, which is nice.
I gave Doug his red shorts that I had attempted to put a pocket in many moons ago.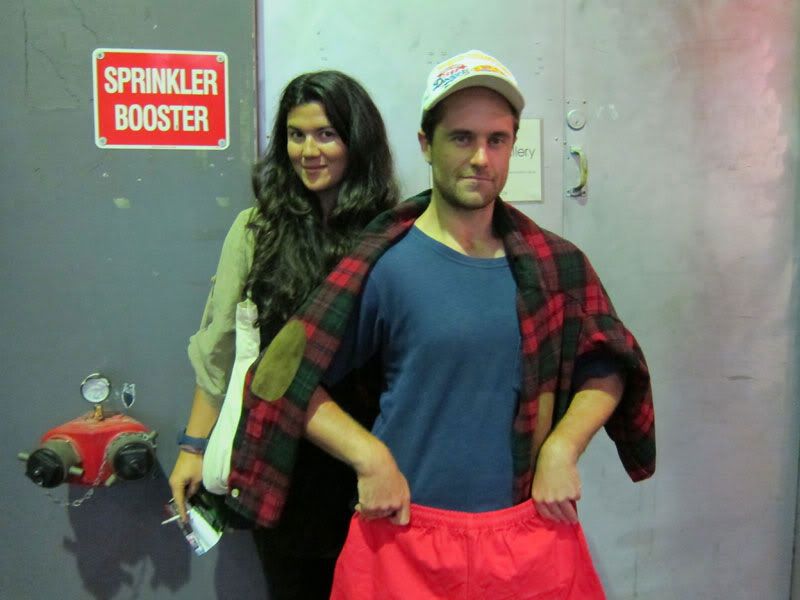 This is me with Jamie from Vice magazine. My lordy we got drunk.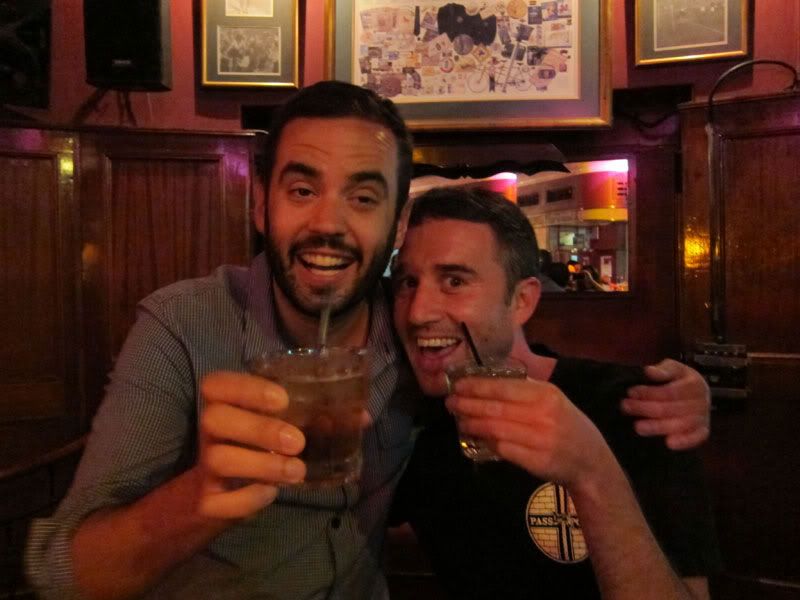 Morning debrief with Kashi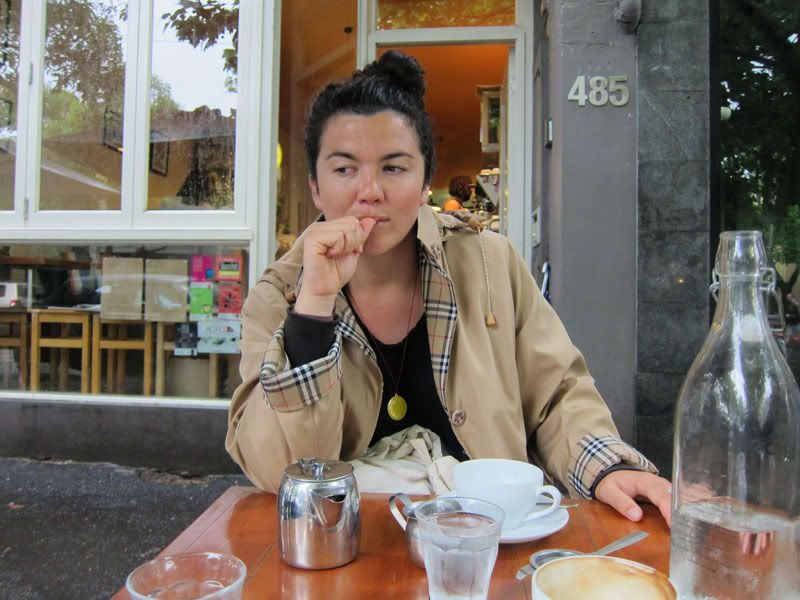 I wandered around in a hungover daze, walking in the rain to a gallery, which was shut.
This is where it all happens.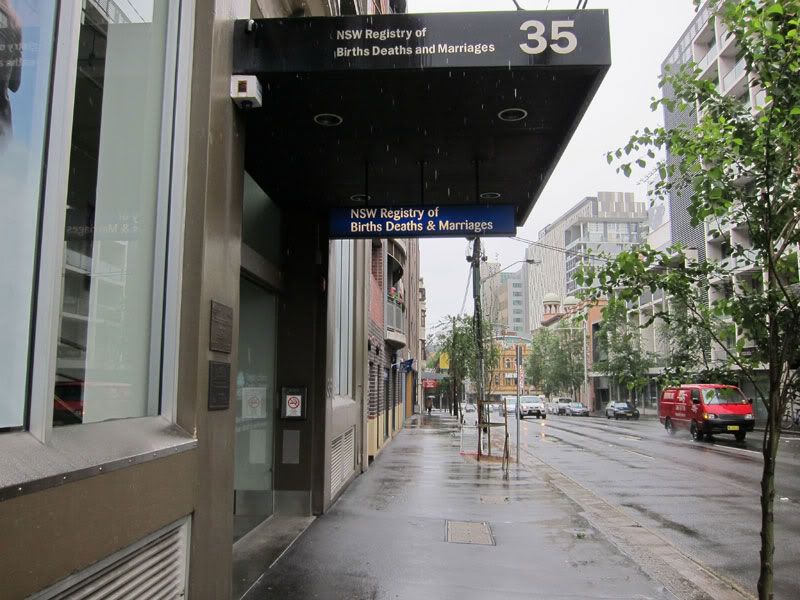 These purple flowers are from the Jacaranda tree (I think). They are absolutely beautiful and don't make me sneeze like the trees in Melbourne.
Here's Trent in his office, making calls, being nice to me even though I was a bit sick on myself and his couch the night before. Thanks Trent and Nadia! Sorry!
Ah, Doug. Look at him! He picked me up and drove me to the airport. What a champ.