Last weekend, we checked out yet another strange little bowl that Pete read about on the internet, located way out in a new housing development that until a few months ago, must have been just bushland.
Predictably, it was very strange and enjoyable to skate.
Melton drains were close by, so we stopped by for a look at the scenic spot.
Unfortunately for us, the dam has been overflowing, rendering the drain unshreddable. Good news for the farmers!
It's a crazy place
So we went to the Melton ledge park instead. Pete made a
video of the day
which features me dancing like a terrorist, among other things.
We realised we were running late for our evening engagements. The traffic was terrible on the way back, and to make matters worse, Rosie's mum Helen was waiting for me at our place! Fortunately, Tim got me back and we made it in the nick of time - to the Body Electric dance spectacular!
Rosie's group, the Dead Ants, were amazing! So were all the other groups. I particularly enjoyed the Doggs (dancing to Snoop) and the Flies (dancing to the Cramps).
Here's Rosie's group in video form:
Body Electric: The Dead Ants - Ant Music from Max Olijnyk on Vimeo.
We think Ben Strong should be the host next time.
Rosie did all the Dead Ants' Day of the Dead style make up - amazing!
Milly and Jo with Dead Ant Rosie. She also made her own costume.
Rosie and a very proud, slightly threatened Helen.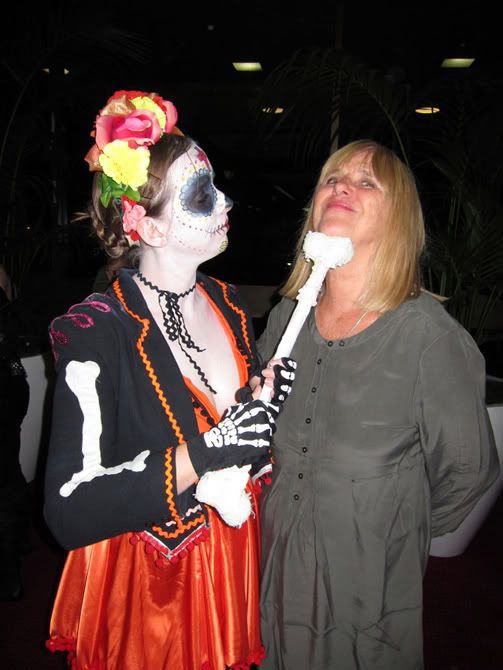 Stopped for a swift burger at Danny's on the way home. Noone blinked an eyelid.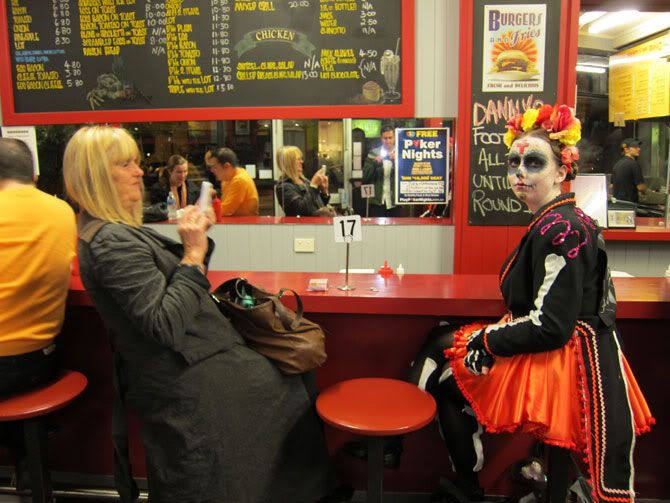 Heide the next day
It was the first time I had been inside the old Victorian home. Such a beautiful place. I liked Barry Humphries' fork sculpture.
Lovely stuff.