A few weeks ago, I put up this show for Misha and Shauna of PAM. They were overseas so I did it. It's meant to be three big books, which is arguable, but it does work I think. It's in metropolis bookshop. I have a cold so I'm not feeling very funny.
The Ed Templeton photos are pretty rad. All the photos are from the PAMbooks series.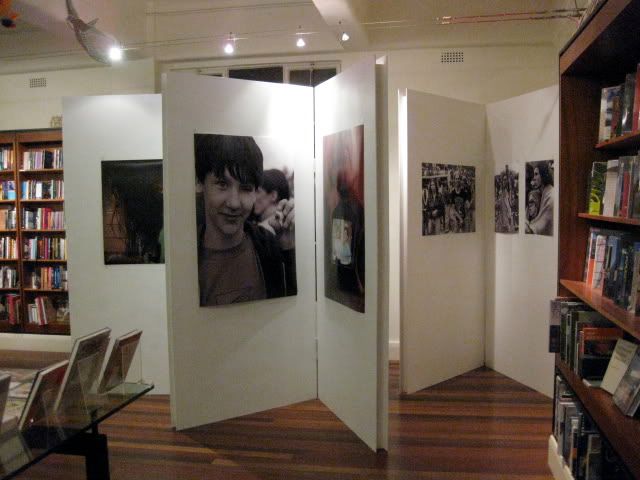 I was still there putting it up really late, luckily Kashi was over from Sydney and came up to visit me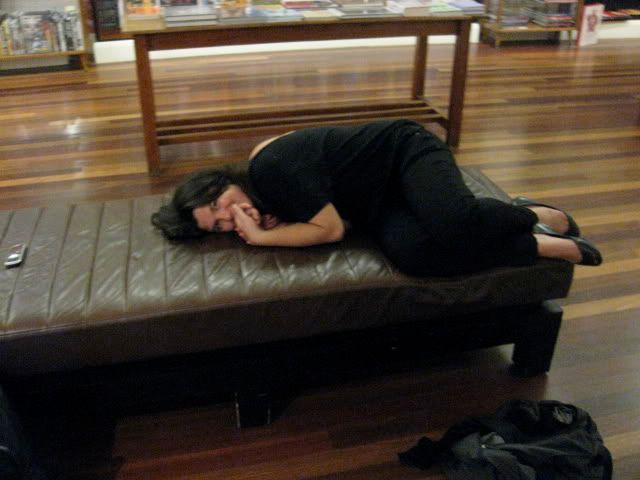 Amber's show opened at Utopian Slumps on Friday. It's an amazing show, I love her work. Even though it was super crowded, you could stand and get lost looking at it. I forgot to blog. Afterwards, we went to the Gem, which is fast becoming my favourite watering hole. Sam was looking bloody great.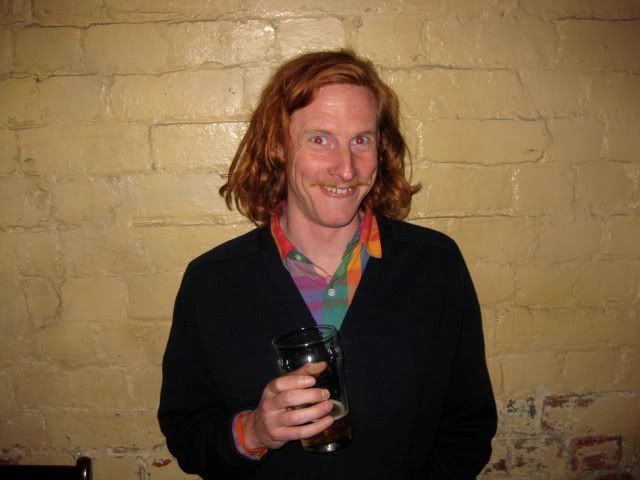 And I met Edwina.
James Cameron has sadly gone the way of the dodo through no fault of their own. Their clothes are amazing, top quality and Australian made. They're having a liquidation sale upstairs in the Curtin House, ending this Sunday.
Good view from up there.
I worked a couple of days, helping James with his football catching skills and getting Riley to try on Note to Self jeans in the change room.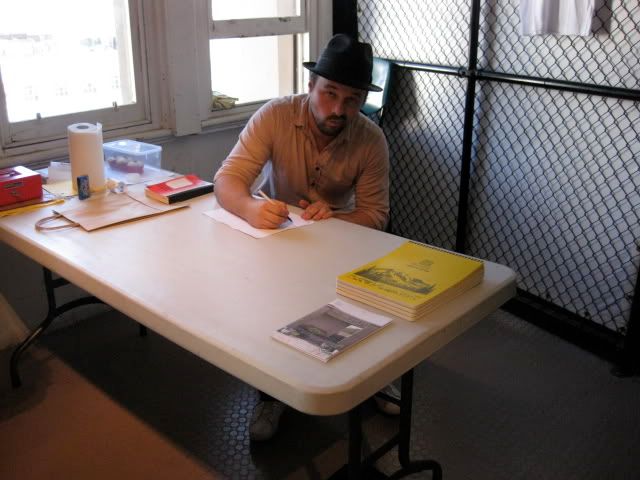 It was Ackroyd's birthday, 21st no less! He celebrated by becoming a wizard.
Rainee would have nearly achieved wizard status by this point if she was drinking the beers. Look how impressed she is!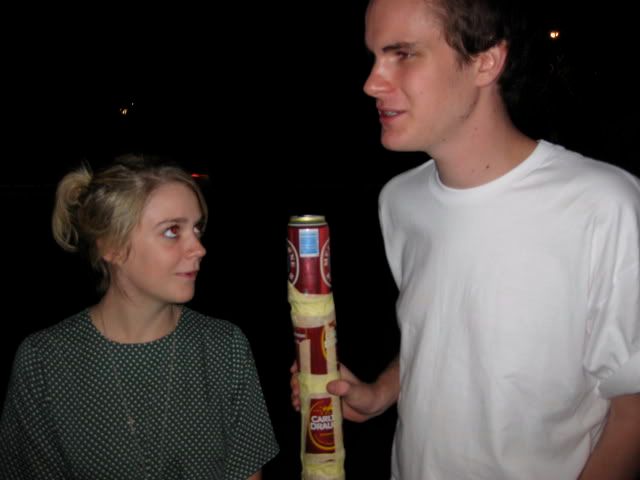 These guys were jealous of our party
Hiding the staff from the cops
Wizard status achieved! Happy birthday, Ackroyd!
Paul Battlay just had ankle surgery, his kickflips haven't suffered though
Sid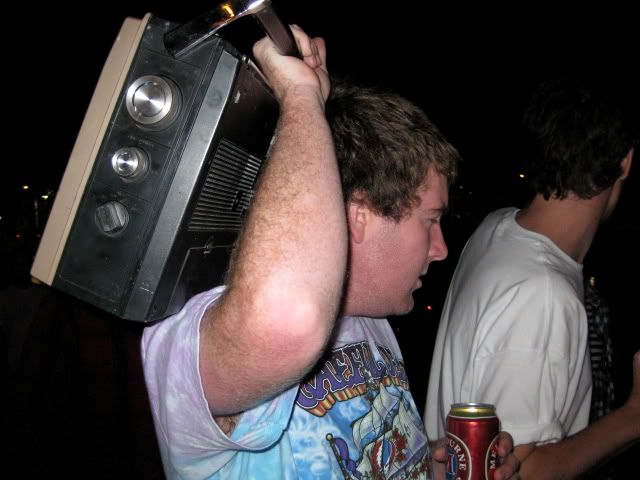 Guess whose board?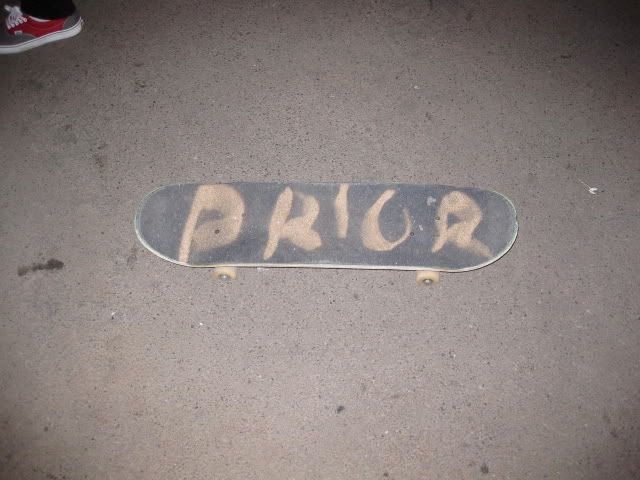 Guess whose hair?
Answer to both questions:
Good ad campaign idea for skate shoes
Focussed Prior board
Prior was more concerned about getting wine on his Dion Kovac shirt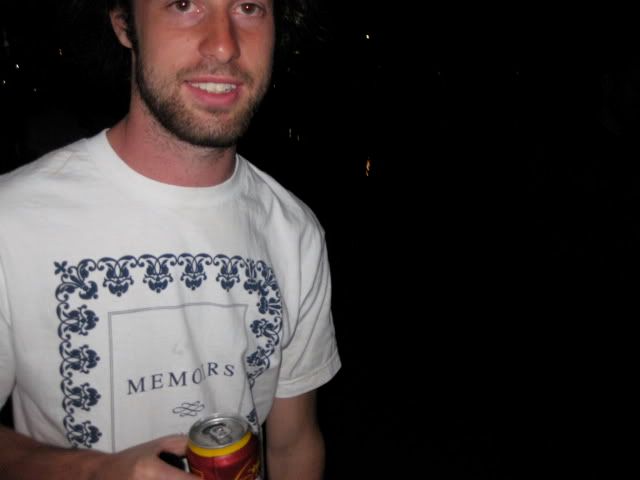 Intact undercarriages
Terrible scene at St. Jeromes
The next day, Sophia put on an amazing dance performance, complete with a special costume. It's her birthday today, happy birthday Sophia!
Had a roll at museum. Jason wasn't very excited.
It was nice though
Tom Walsh's 21st as well! A more sedate affair being a Sunday night, but Tom was in fine form as usual, flanked here by the lovely Alice and Rainee.
The next day, Scottie rocked up in a massive truck. It was full of his old stuff, including a $5 note signed by Chad Muska and an awkward ikea bed named Dokka.
The truck was borrowed from Essendon football club. We dropped it off and copped an eyeful of this stunner.
And went for a shred.
I've done this on Scottie's computer. he thought this was going to be a fun thing for us to do, but I've actually just been sitting here concentrating for the past hour. He's getting pretty annoyed now, I should wrap this up. He wants to throw the ball. He says I'm being a jerk. Oh now he's gone to get some mints.