The manor where we currently reside.
We caught some trains uptown and went to Printed Matter, a massive zine shop.
New York Scottie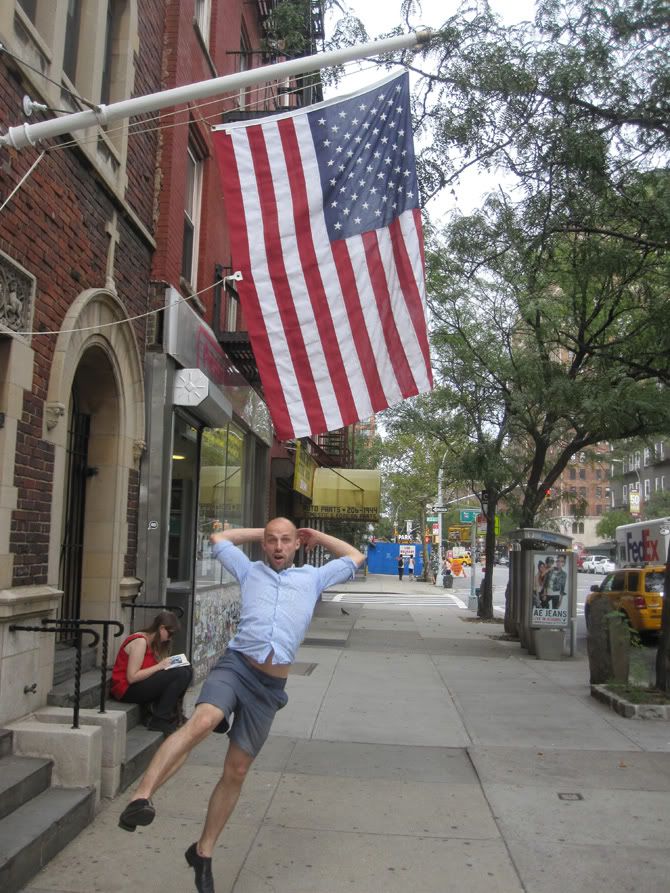 Stumbled across the Comme des Garcons store in Chelsea. Pretty amazing stuff.
There's a new extreme park out there. It looked fun but scary.
Then walked along the high line, a section of train line that has been converted into a public garden/walkway/art type thing.
Near the end of the high line is the Standard hotel. It's a cool building that people like to have sex in the windows for all to see. See if you can spot them. I didn't realise till after I took this, by the way. Would have zoomed in otherwise.
More walking down pretty streets. It's a particularly pretty area, Chelsea.
Then the West Village, home of lots of Marc Jacobs stores, rich 'Gossip Girl' type characters and the cupcake shop that apparently featured heavily in Sex and the City. It was madness in there. The bright red cupcakes are a bit of alright though.
Saw some really nice stores around there, including Freeman's, where everything is made within 10 miles of the store, and they have sewing machines in there and stuff. I found it quite inspiring.
Had a quick bite at the Hommus Place, a place that specialises in Hommus.
Union Square
Later, we went out for a few drinks and darts. Guess who won? Scottie.
Will Brown! We drank beer in cans, served in beer coolers from the bar. There are free twizzlers (raspberry liquorice) and cheetos also. What a fancy establishment! No wonder Sam recommended it.
Later, we adjourned to the taco van for sustenance.
So good.
Scottie eats here a lot.
The challenge began to land various tricks on Will's cruiser board. Everyone rides these things here.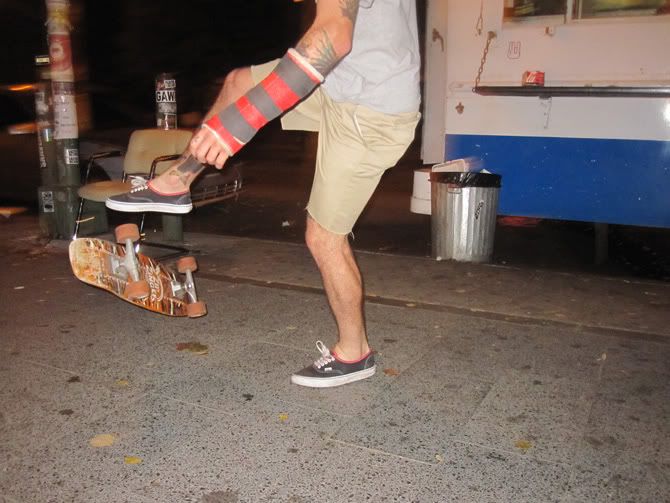 Paul sat it out.
Scottie utilised the power of various ladies garments hanging on the fence.
It created quite a scene
Sarah and Andy looked on, amused yet keeping their distance.
Then we got a slice of pizza. Hence - no hangover!