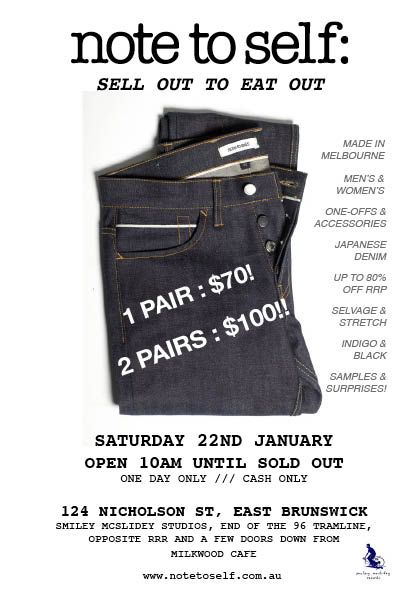 This Saturday, I'm setting up shop at the end of the 96 tramline, just a couple of doors down from Milkwood café in the Smiley McSlidey studio front room. I'm selling a pile of top shelf Note to Self men's and women's jeans (as well as samples, one-offs, bags and iphone cases) for really cheap prices. Normally, these beauties fetch somewhere between $200 and $300 a pair – that's because they cost a lot to make, then the shops I sell them to have to make a profit too. The only reason I'm having this sale is because I'm getting some new ones made, so I need money to pay some people to make them for me.
I can't make them all myself, because it would take me ages and besides, I have other things to do! Not saying I'm above making jeans all day (it's a noble profession), but, well, you know, it gets a bit repetitive, hot and noisy.
Drop in for a bargain (and a ginger poof). One pair for $70, two pairs for $100. You heard right, yes, crazy prices. I've gone mad! Tess will be there! And Rosie!