Deary me, how the weeks roll by. It seems like only yesterday I went to TCB gallery and found what looked like a part of a spaceship crammed into the main room, but was actually a massive kaleidoscope with a camera attached to it.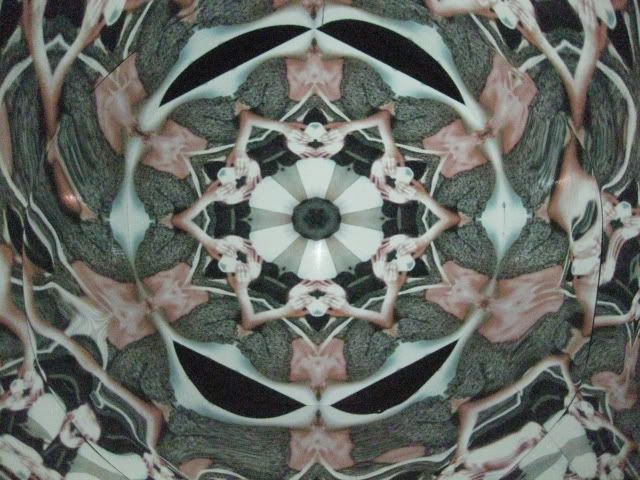 Pretty incredible. I was transfixed!
Phil Evans was over from Dublin with his good lady Chris. We had many the fun roll and darkly amusing chat about skateboarding and life in general. Well, mainly skateboarding.
We love each other. My skin is brown.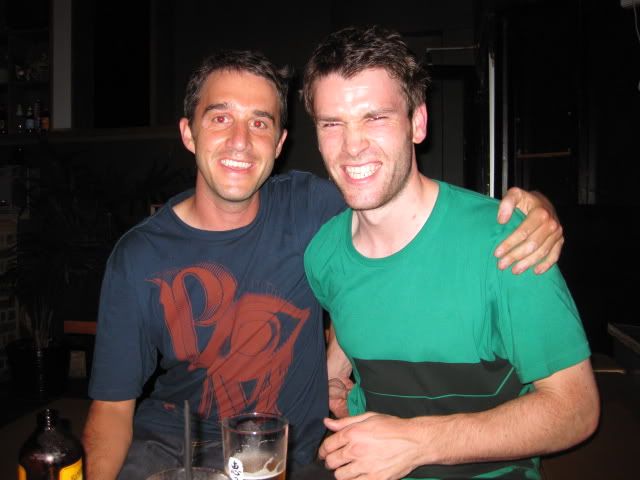 So we were driving to Coburg the other day and I said Phil should screen his new skate film somewhere while he was here, then someone said what about Morgan's night at Radio on Gertrude street, then Morgan said yeah and then we said what about a projector then Morgan said my housemate might be able to get one and then it was done. Then it fell through, then it came together again. So we had the screening and it was rad!
It's called 'the Scrum Tilly Lush' after something Phil's dad would say when he was about to eat something partcularly delicious. Roughly translated, it means Scrumptious. It's all filmed on super-8 film and has parts on skaters in I think 11 different cities, including Nick Jensen, Conhuir Lynn, Wieger Van Wiegywiegyninnin and my personal fave, Al Collins. Pretty epic, a 45 minute super 8 skate film! I enjoyed it, it gave me a feel for the places and made me feel like hitting the road myself. Well done, Phil! Well done also to Morgs for organising the night, which is also on every Wednesday.
Mike and Pete came over from the west to sample the vid, plus the $10 pizza beer combo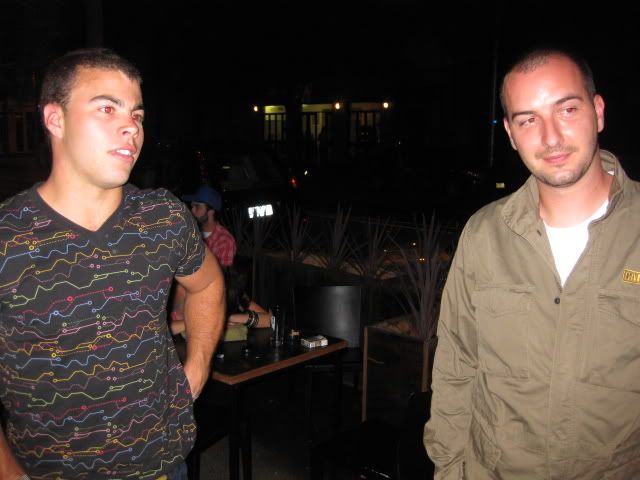 I contributed $2 to Callum so he could get a beer. He just got back from the first ever POON run, which is the poor mans hoon run. Callum is the rich mans hoon in my book, a ROON.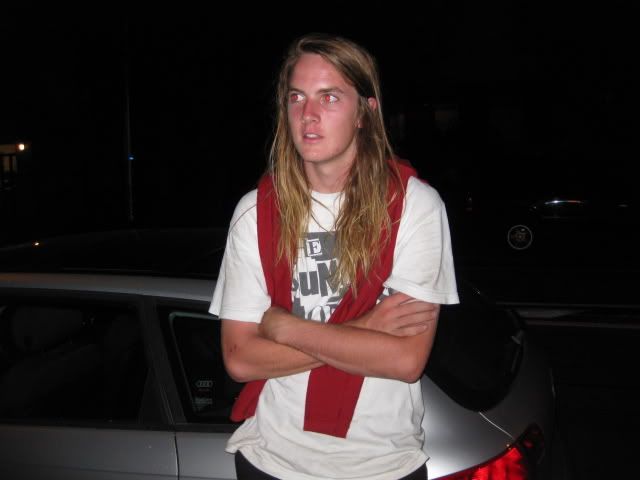 On Friday night, quite a crowd gathered spontaneously at the Standard for Parmas and such. Amelia, Edward and Milo were prime instigators.
Milo had a dinosaur book where the dinosaurs were put in modern day settings and there were wordy descriptions of what kind of house they were suited to and stuff like that. It was weird, they seemed to throw in a few fictional dinosaurs in with the real ones. Good book though. By the way, either Milo or Fia took the next few photos.
Things started getting pretty wild, flashes were going off everywhere.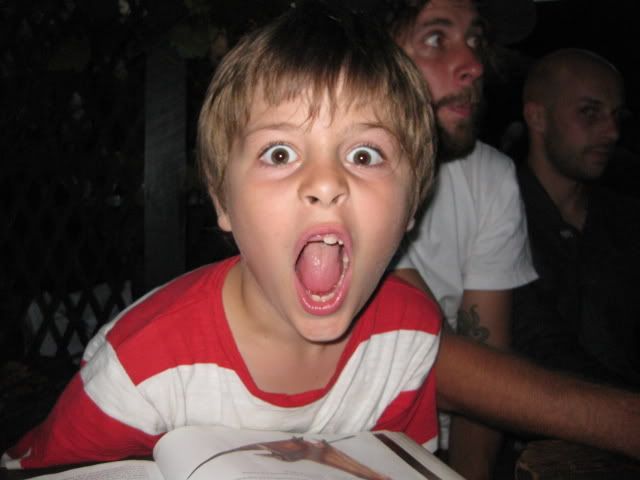 Sofia in her element.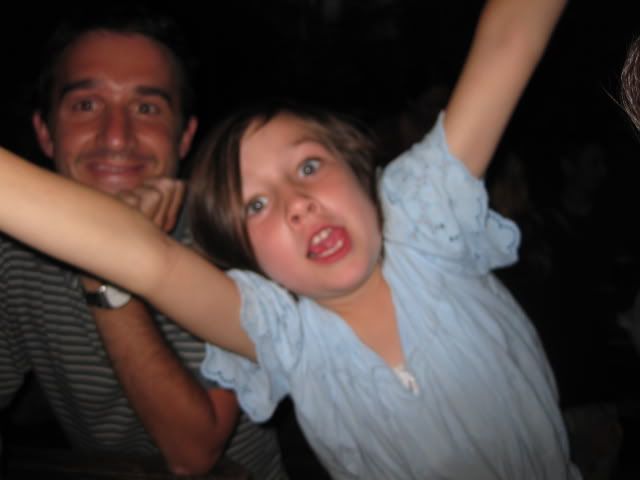 Alana checking Sofia's video work, which she seems to be focussing on now exclusively.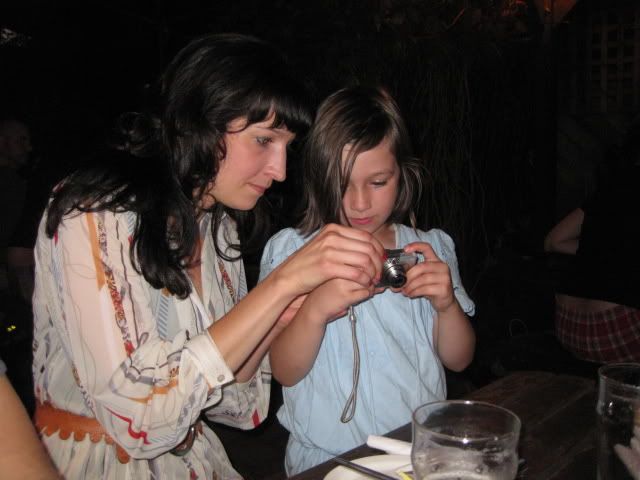 Is that Richard Knott from Neighbours, the guy who stole Tad's identity then died?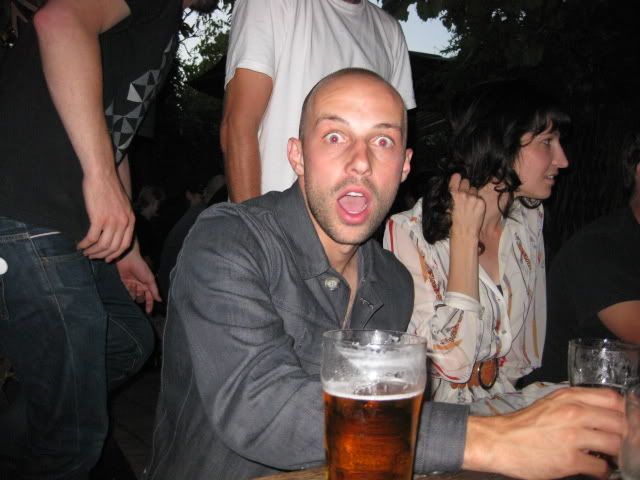 Things got quite school formal after Ed and Olivia took the kids away. Girls on one side...
...and boys on the other. Robin was in on both conversations.
Sam
was wearing his new pro model blogging
sunglasses
Riley also gave them a go.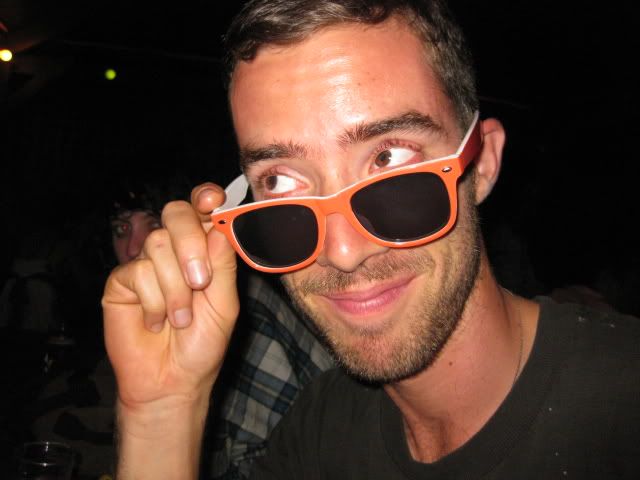 As did Richard Knott, from Neighbours.