Good day. We got back to Melbourne yesterday, after five weeks away. We are sitting on the couch with our dog and it's pretty nice. However, I do wish we were still on holidays.
From Berlin, we flew to London, where we stayed with my old friends Siggy and Charlotte. They live in Bethnal Green, in East London. This is their cat Fanny.
Siggy and I hadn't seen each other in almost five years. We were quite happy to make each other's acquaintance again. Here we are out the front of the nice cafe where Miles works.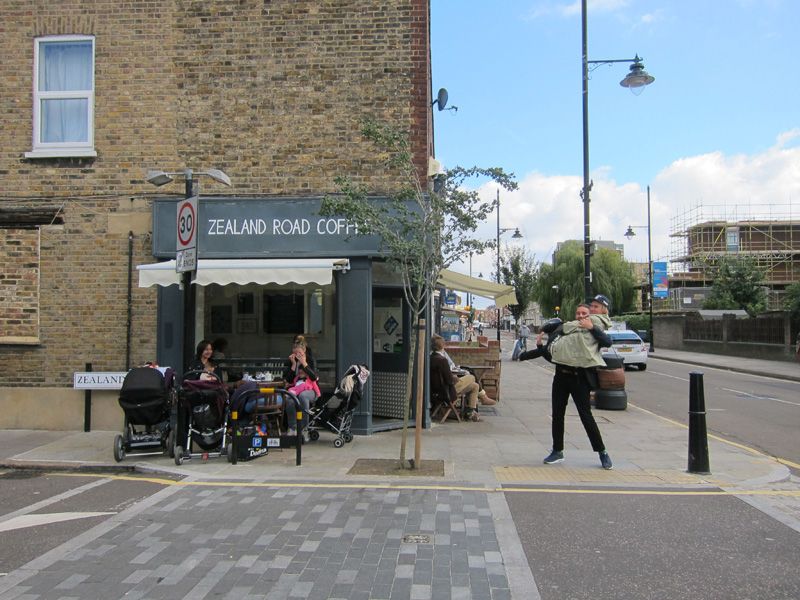 Milo!!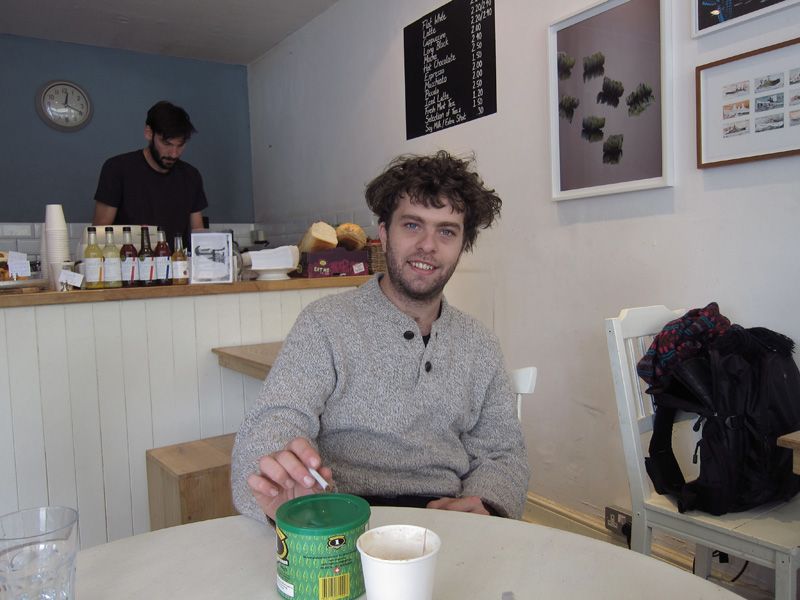 Here's Siggy again.
We walked around and looked at things. London is so grand and impressive!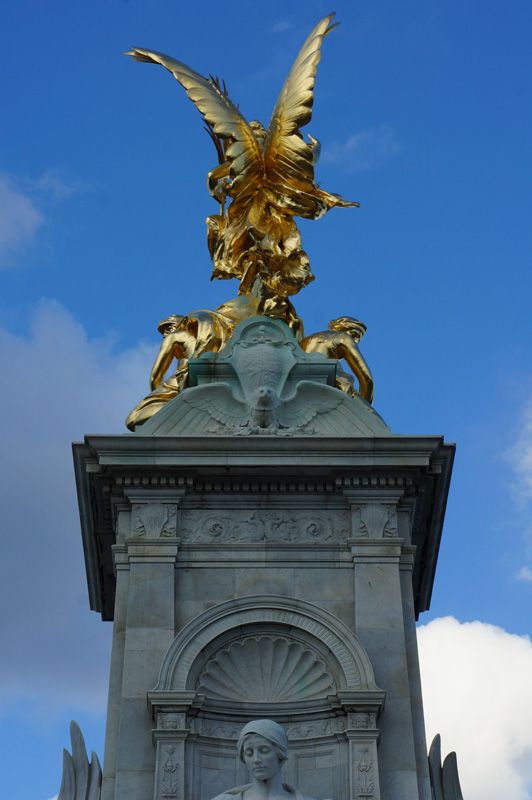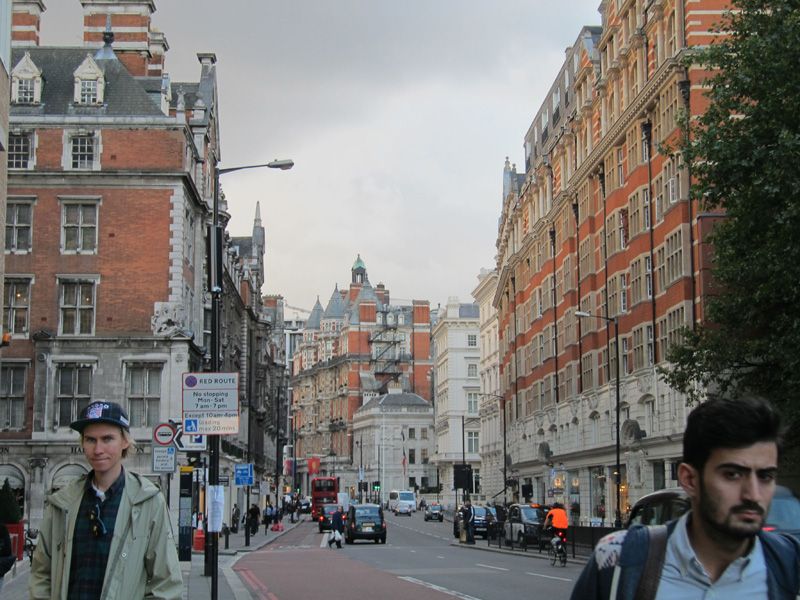 We went for dinner at Heston Blumenthal's Dinner restaurant. It was amazing! This mandarin was made of paté.
Afterwards, I went out for a few drinks with Siggy and the other Max, Creasy. We met up with a nice fellow named James, who works for google and before I knew it, we were really drunk. Later on after we got home and had been asleep for a while, I got up and went to the toilet. When I came back, I jumped into bed with Siggy and Charlotte. I was sleepwalking again. Ah, I'm a character!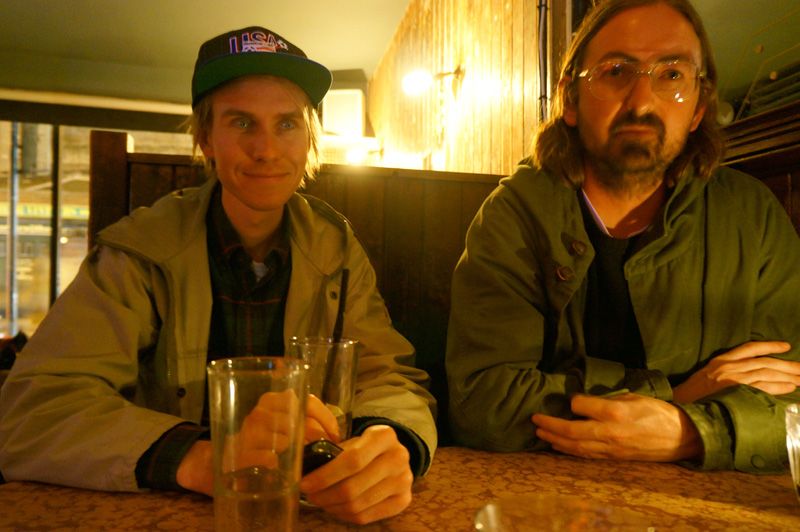 Speaking of characters, I finally met the last piece in the Rosie puzzle: brother Shaun!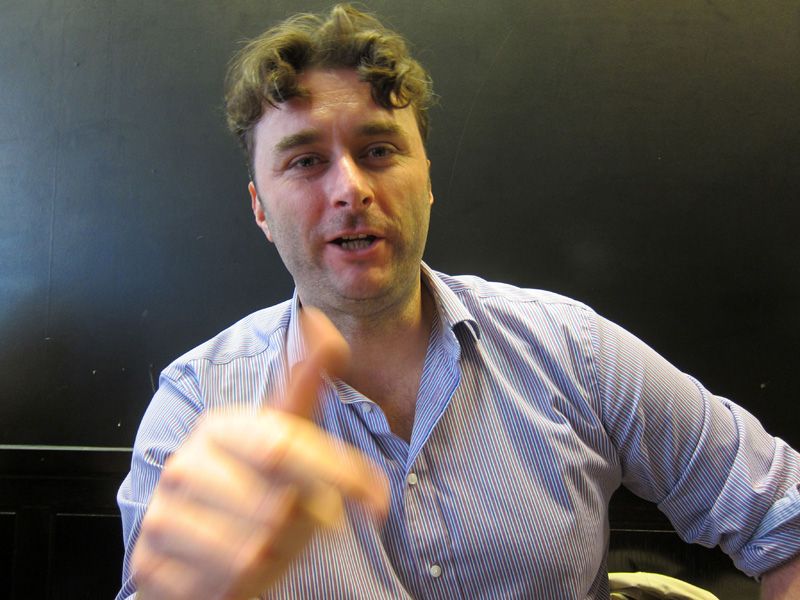 We had lunch with him and his lovely girlfriend Vilma.
We made our way over towards the Tate Modern. Suddenly it was rainy and freezing. Old blighty!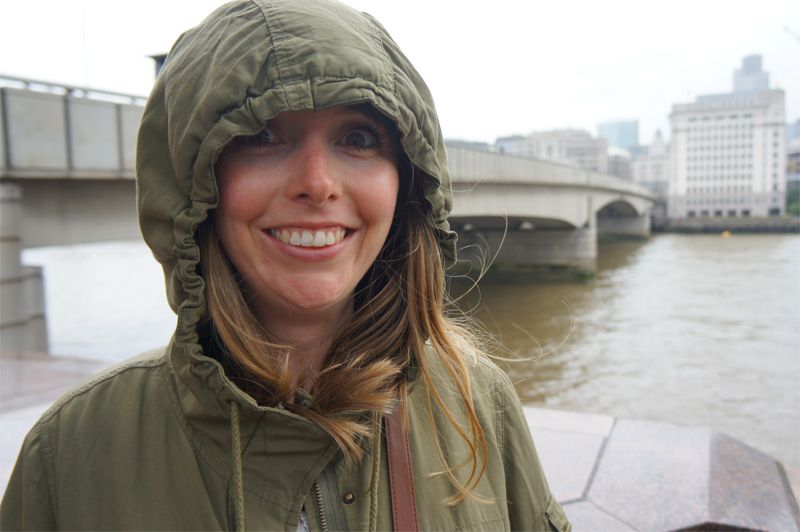 We made it there in the end and met up with my old mate Andi, who, among other great achievements, introduced me to the magic of Alan Partridge. Andi is a news reporter now, in Norwich! Not sure why we're sitting on the ground. It was Andi's idea.
When we came out of the museum, the town was looking very grand indeed.
We were crossing the Millennium bridge and I noticed some youths having a good time and kicking in a big box. I thought "that will make a funny little photo" but before I had a chance to focus properly, one of the youths must have noticed and they started yelling "Someone just took a photo of us! Let's get him!" and one of them started running up towards us. I didn't know what to do. We just kept walking and he never appeared. I'm stupid!
The next day was my birthday! We went to Ottolenghi for breakfast. We were very happy bobos.
Then Siggy and I went skating. Along a canal with houseboats. In London!
We met up with Siggy's mates, all of whom were very friendly, humourous and good on the board.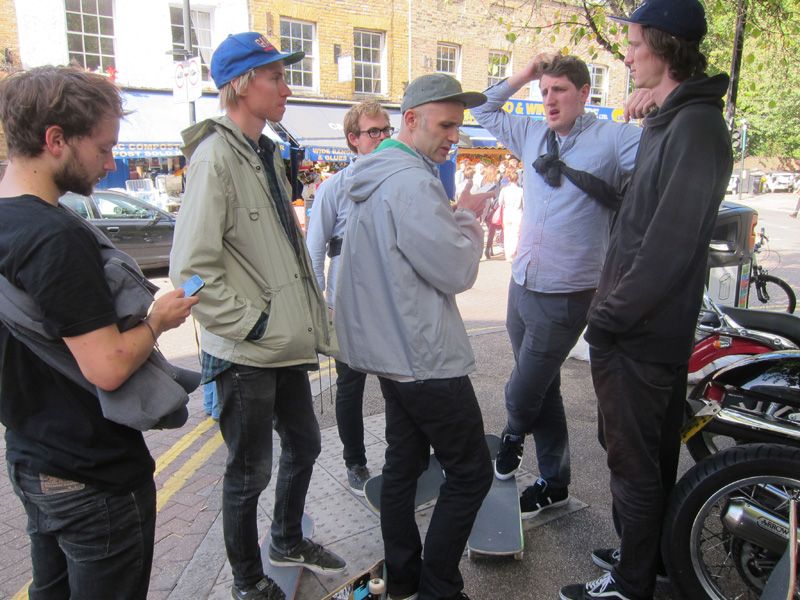 After skating, we rode home on these "Boris bikes", genius rentable things with skateboard racks on the front.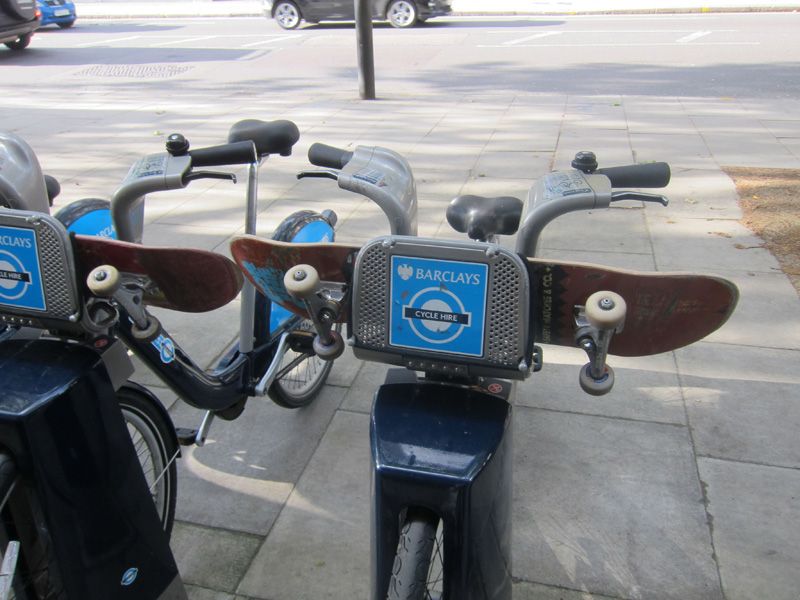 Siggy is quite handy on them.
We stopped at some ledges at the commission flats on the way home. They were good but needed some wax.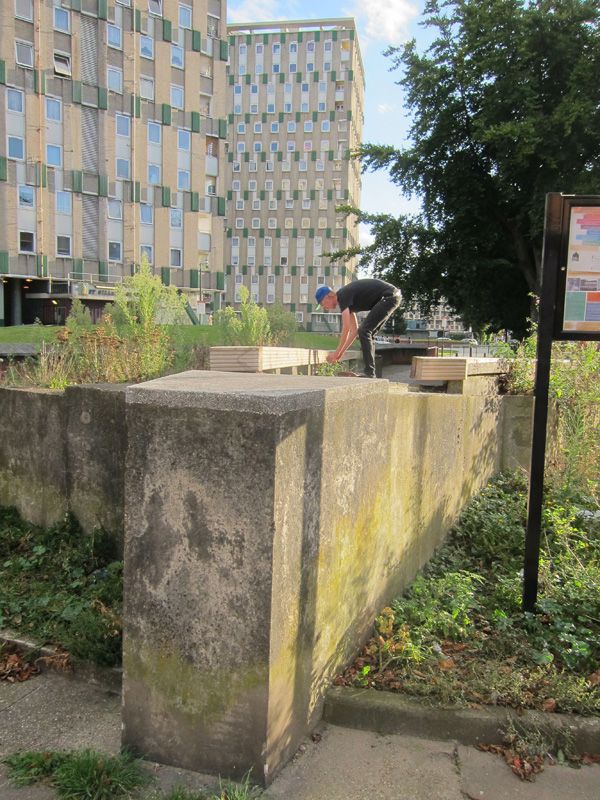 What's this? A birthday miracle! Birthday candles next to the ledges.
Later on, we went over to Max, Creasy's place for a drink. Turns out they'd organised a surprise birthday barbecue for me!! Here's Max and the remains of his amazing cheesecake. Max and I love to bicker about books, photography and skateboarding - the big three.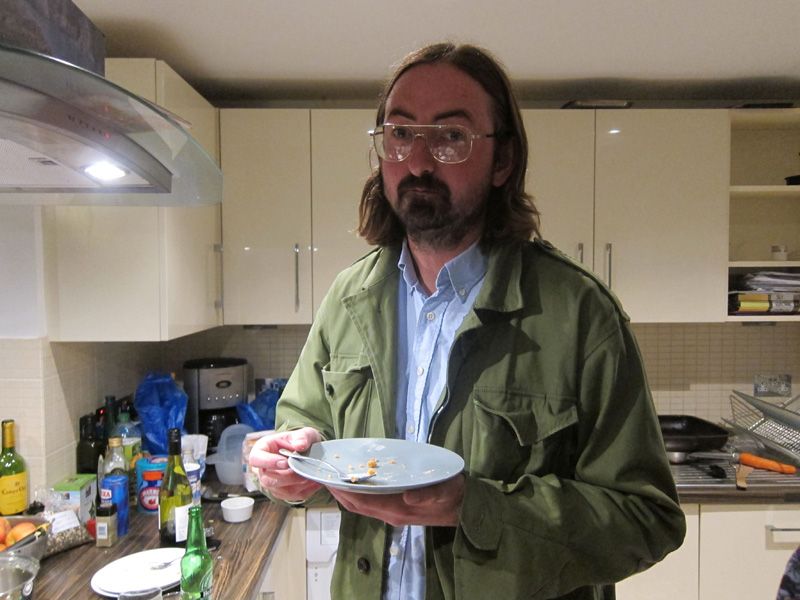 Lots of people came who I'd never met before. They all wished me well, the lovely buggers.
One person who came was Rosie's cousin Harriet! She's lives in London now and lives with a 75 year old woman who gives her nice jackets and so on. That Harriet always lands on her feet.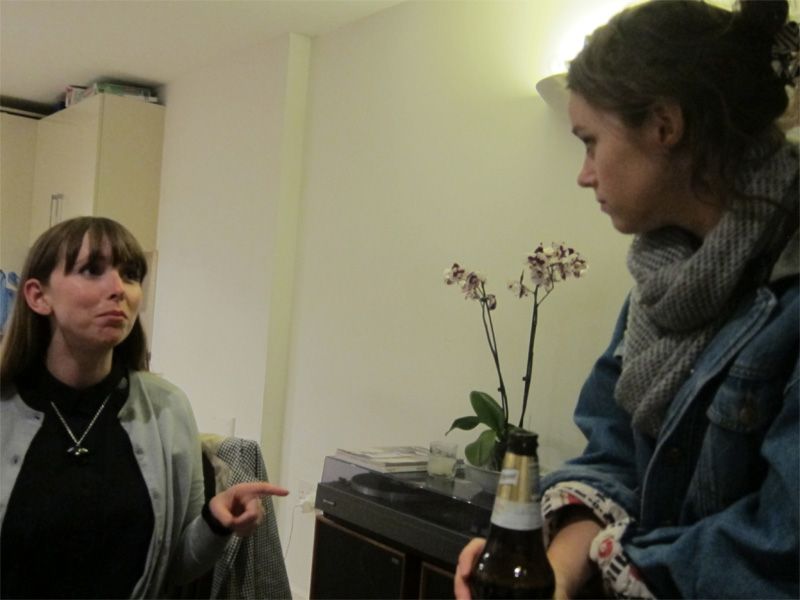 I half expected Sam to appear, seeing as this was his old stomping grounds. Alas, he didn't.
Here's Max with a nice chap named Charlie. Charlie got the barbecue started.
It's very difficult to catch Siggy out in a photo. He can whip up this smile at a moment's notice. Charlotte made loads of delicious salads for the barbecue, by the way.
Classic Siggy.
The next day was Siggy's friend Milo's birthday. We met up with him for a quick skate at Mile End skatepark - which is a pretty good park, but not really by Australian standards. I still managed to fall over a few times while the lads impressed me with their tricks. Clip coming soon!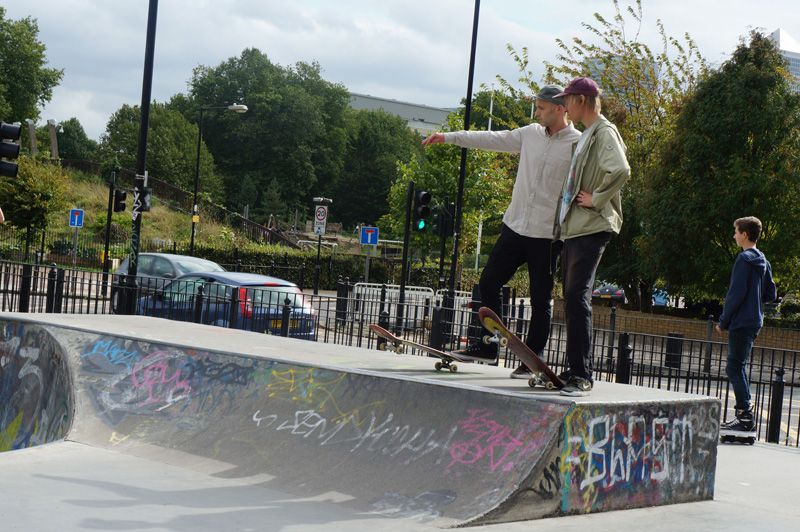 Then we went to a bustling flower market.
And Brick Lane market, where I consumed this local delicacy. It was a bit much, to be honest.
We visited the Barbican, a crazy place deep within the axis of evil that is the City of London. The City of London has its own rules and everything, ask Siggy about it. The Barbican is a cool, weird looking place in the middle of all that, with theatres and galleries and a conservatory. Here's Siggy and Charlotte. Siggy looks a bit crazed in this shot. Thanks for having us guys!!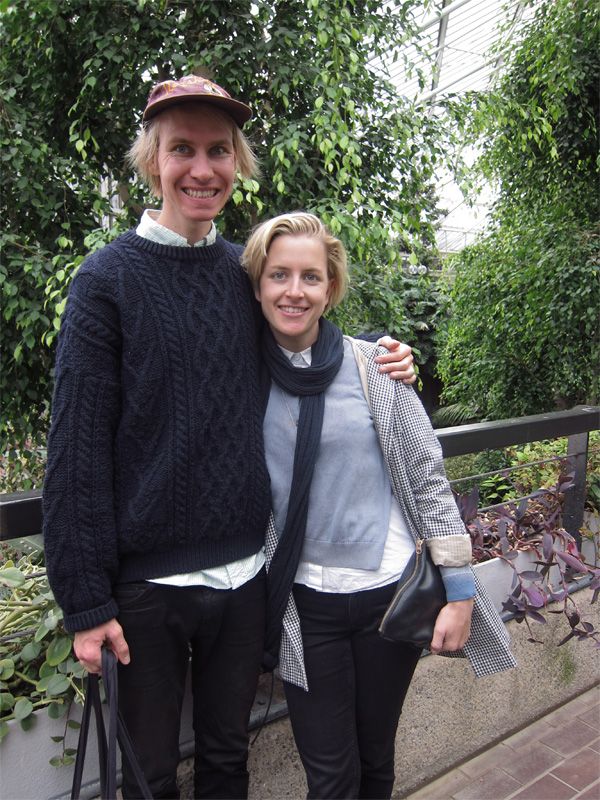 We went for dinner that night and found our garage over the road. Max and I had just been bickering again.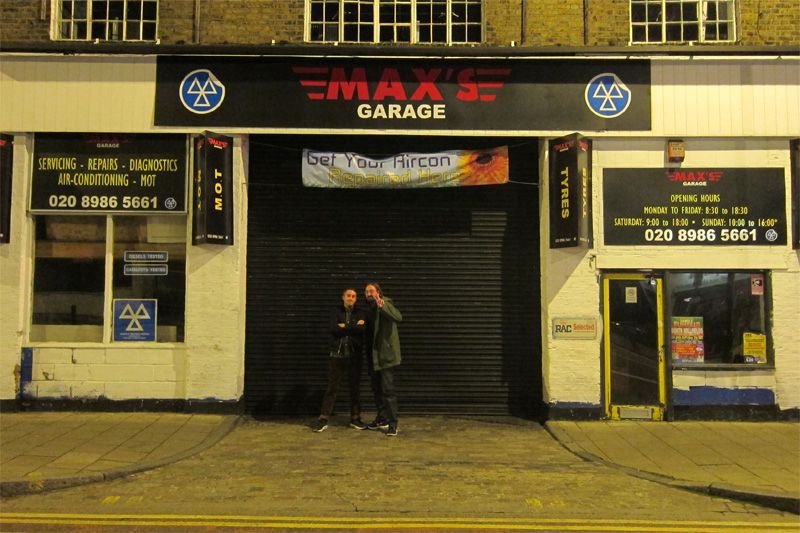 And that was that! It was over all too quickly. But we were off to Japan.