It's true, I have had a case of the post-holiday slump. It's inevitable, you spend a couple of weeks traipsing around buying sunglasses and eating tacos, then you come home to tax bills and a cute dog. We've pushed through though, and are embracing Melbourne with all our might.
Liege is the manager of a pub just down a few roads from our house, it's definitely the new local. Here's a peek at the sterling crowd that gathered just the other night. Top shelf!
We stayed quite late and walked/rode home. Liege has a lovely rusty bike that is difficult to fall off.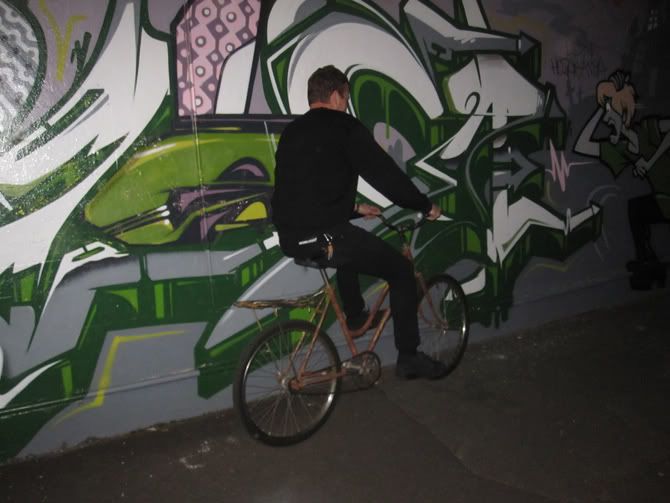 Not sure what's going on here.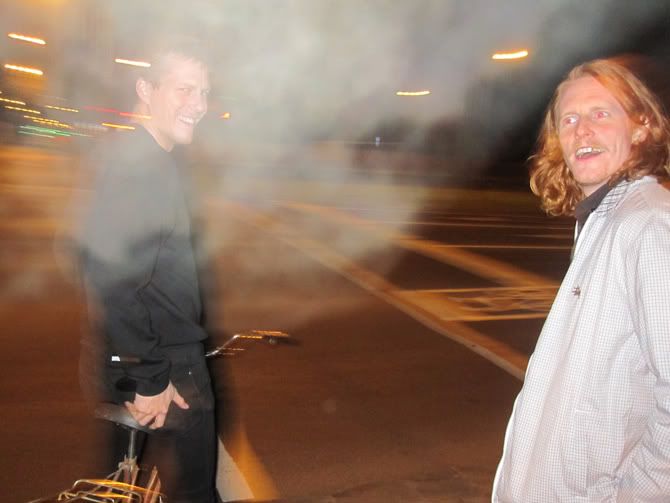 I woke up very early the next morning to meet Joey and some other characters at the city skatepark. We were off on a mission!
A few exits down the highway, we picked up none other than Morgan 'Morgs' Campbell and Mike 'Mike' Martin. We had the good car. Hilarious banter ensued.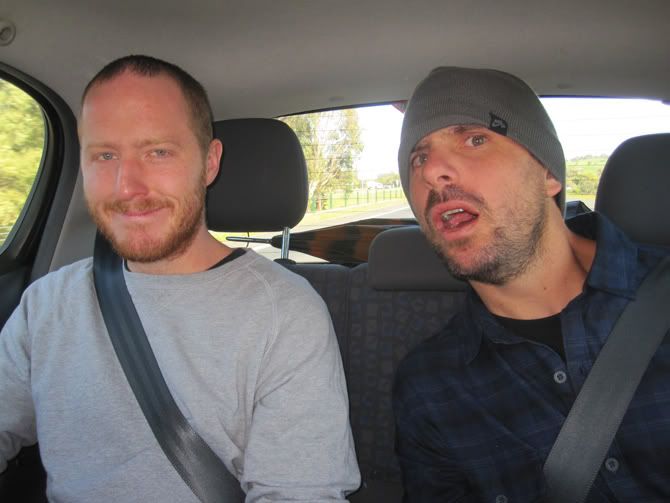 First stop: Sale. Quite a good park, though the bowl was unskateable due to a mattress being burnt in the deep end. I took it upon myself to suggest Mike ollied this gap, which he managed with remarkable aplomb (not on this go, silly).
Then we visited this backyard, featuring a very impressive mini ramp. Turns out it's more slippery than a greased up eel, but fun nonetheless. Freindly folk.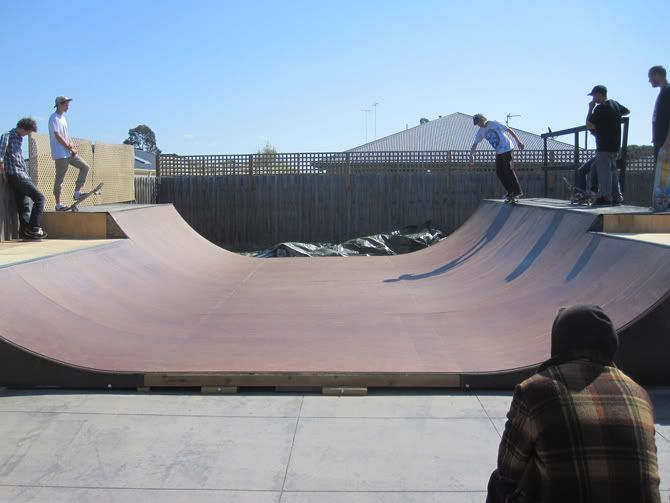 They had some good dogs, a tad larger than Tess.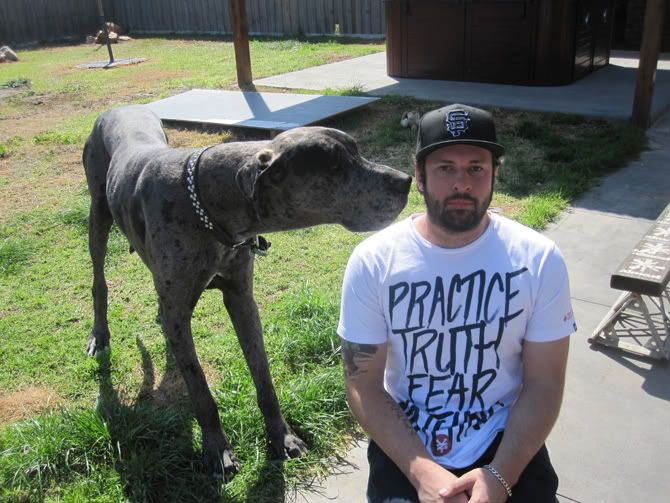 Then we drove through the bush for a bit.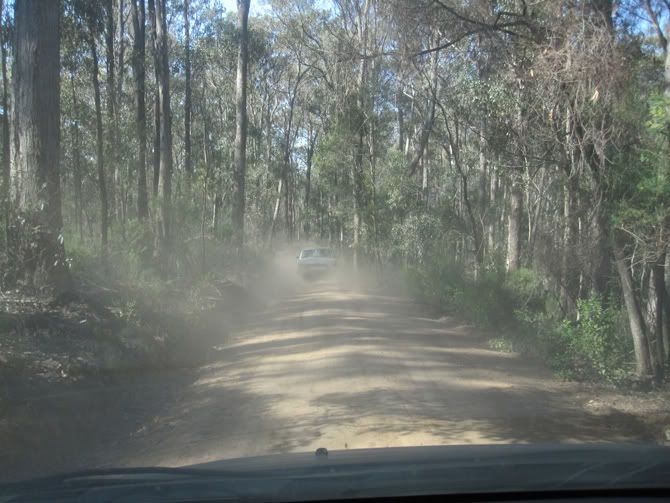 To this fellow Ben's place, where he lives with his parents. They're pretty much self-sufficient, creating their own power and even their own skatepark!
Quite a chaotic, yet highly enjoyable scene.
There is a hut next to the park full of bunk beds and pages from skate mags stuck to the wall - quite utopian. Turns out it is where the family lived while they were building their house - more on that later. Oh, and that's Adam, he's good on the board.
They had a long rider, a ridiculous invention that may or may not be partially related to the present day scooter. Reminds me of Fossil's name for snakes in Mighty Boosh, the long mover.
Leaving those guys to it with the landing of the tricks on the boards, we fired up the barbie. We quizzed Ben on his plans following his matriculation, smiling knowingly when he said he wanted to escape this country life for the smooth pavements of Melbourne town asap. I was about to suggest that Joey recommends him for some shifts at the skate shop (to follow in our footsteps) when he informed us he had lined up a position at a photography studio that starts at $85 per hour. Kids today.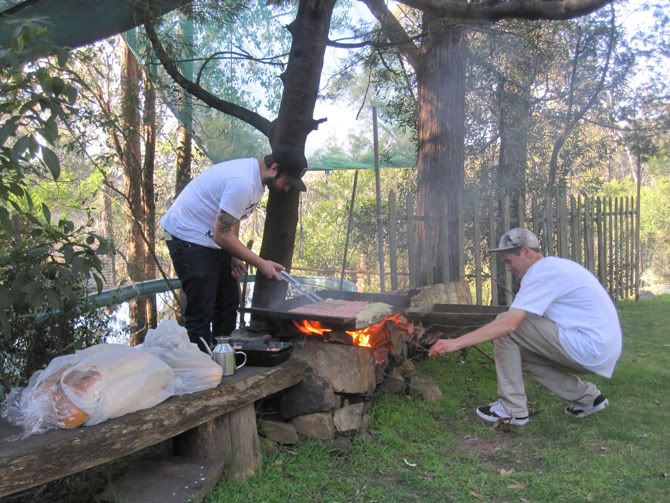 The barbie went down a treat. Look at Seve, he's loving it.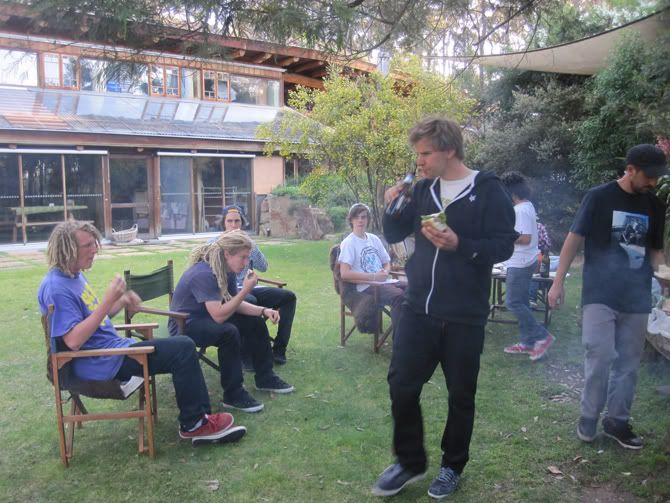 Here's their house. They built it from clay bricks made from their soil, and wood from trees on their property. It's a pretty amazing place!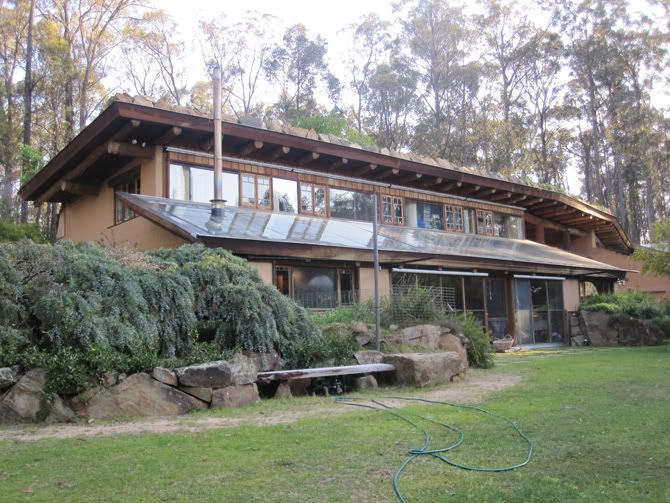 Morgan had hurt himself while attempting a trick on his board.
Next up was a session on the rope swing, which Ben had pretty dialed. Here he is after jumping off the roof of the house, bouncing off a tree.
Casual as you like. Fresh swinging style.
Not to be outdone, Mike stepped up to the plate.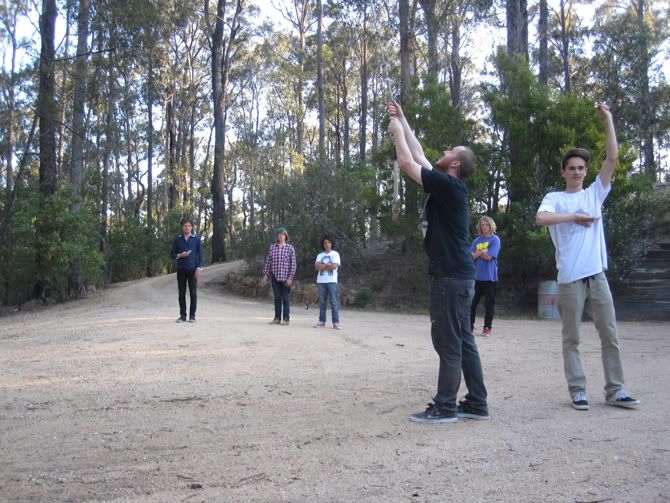 Slightly less stylish on the swing to the board, but entertaining nonetheless.
Joey, on the other hand, managed to generate more hilarity in the short time he had 'control' of the swing than the world's most revered comedians. Amazing stuff! Mike is sending his footage to Funniest Home Videos. Mine was too shaky from laughter.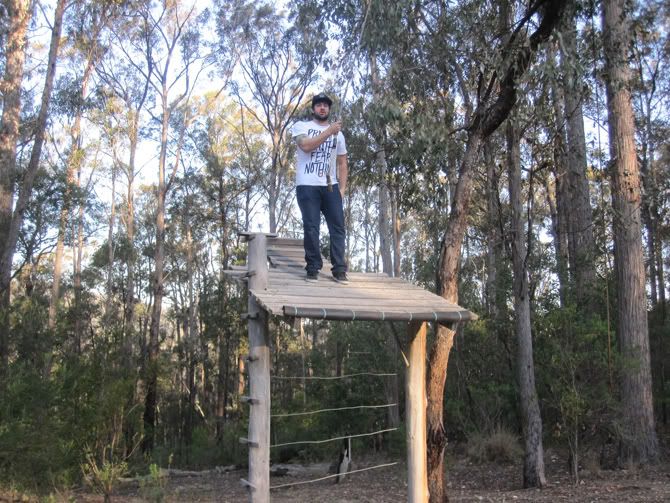 Morgan bombed the dirt hill, no mean feat.
The local kids were friendly and also very good on the board.
Morgs, attempting his trick again.
Mike,
a keen blogger
himself.
We stopped at this ridiculous park, where we were threatened by a hammer-wielding 10 year old girl.
Had a look at another nice park after being challenged to a duel by a drunken youth at the bottle shop. This photo was taken while searching for a huntsman spider I had just put my hand on.
A long and entertaining drive home, in which Morgan consumed multiple Magnum Gold's and pushed them on the rest of us. He was right, they're delicious!